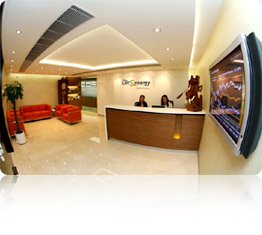 China LotSynergy Holdings Limited (¡°CLS¡±) is a technology company dedicated to the lottery business in China, offering reliable and advanced lottery equipment, systems, games and a full range of relevant solutions, as well as providing quality and professional services to contribute to the healthy and rapid development of lottery business in China.

Company core values: Focused, Pragmatic & Innovative.

CLS was listed on the Growth Enterprise Market of the Stock Exchange of Hong Kong Limited (8161.HK) in 2001, where it underwent restructuring to be engaged in the China lottery business from its original metal e-commerce business, and successfully transferred its listing from the GEM to Main Board (1371.HK) on 16 October 2013. In May 2014, CLS was included by Morgan Stanley Capital International (MSCI) as a constituent of the MSCI Global Small Cap Indices - China. In October 2014, Tencent became the second largest shareholder in CLS. CLS was the first HK-listed company to participate in the China lottery business and became the first lottery company to successfully move from the GEM board to the Main Board. On 13 January 2016, CLS became an Associate Member of the Asia Pacific Lottery Association (¡°APLA¡±). On 17 March 2017, CLS became an Associate Member of the World Lottery Association (¡°WLA¡±).

CLS is committed to becoming a leading enterprise with focus on innovations in the China lottery business. The company is led by a global, professional and experienced management team backed by a large group of specialists covering business operation, technical development and capital markets, who help shape the company¡¯s comprehensive capabilities in offering lottery systems, terminal products, games, and operation for Computer Ticket Game (¡°CTG¡±), KENO-type lottery, video lottery (¡°VLT¡±) and new media lottery. CLS works closely with global lottery enterprise GTECH to enhance the company¡¯s competitive advantages in VLT, KENO-type lottery and new media Lottery applying proven technology and operational experience in accordance with the requirements and circumstances in the China market.

CLS is the exclusive equipment provider of video lottery terminals ("VLT") for Welfare Lottery. As a forerunner in the China's betting terminals and components market, including lottery scanners and readers, CLS has maintained its leading competitive advantages and has become an approved CTG terminal supplier for both Welfare Lottery and Sports Lottery authorities. In addition, the company's lottery transaction system and betting terminals have been widely used in a number of overseas markets. CLS has also actively prepared for expansion into the new media lottery market, which includes telephone lottery and internet lottery.