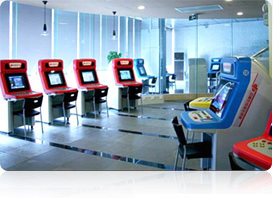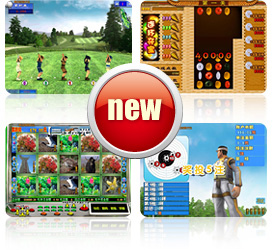 Using advanced technology as its backbone, Video lottery comes with a number of unique features, including instant wins, paperless game processes, visual interaction, location in designated venues and a unified prize pool. It has become a very popular game type favored by players of all age groups.

Video lottery has developed rapidly around the world, particularly in European countries and the USA, with greater penetration and sales.

In 2003, as a pioneer in the China lottery market, Welfare Lottery launched the video lottery type branded under–"China Welfare Lottery Online" (中福在线), or VLT. The launch of 中福在线/VLT in China represents a reform and advancement in lottery distribution techniques.

Since its launch, 中福在线/VLT has swiftly become the trendiest, highest potential lottery product in the China lottery market, as well as the most effective tool in combating illegal gaming. Having received wide acclaim, 中福在线/VLT has been playing a vital role in the China lottery market.


中福在线/VLT comes with the following features: paperless ticket sales, visual interaction, instant draws and entertaining features. Additionally, it utilizes centralized online management of betting information, real-time monitoring, system auto-run, and random payouts to ensure impartiality and accuracy, reflecting the core elements of the game: "fair, impartial and transparent".

中福在线/VLT is sold in designated venues, and is linked to a unified nationwide system. It adopts unified management in every aspect of its operation: issuance and sales, fund settlement, brand management and service standards.

CLS is the exclusive provider of terminals for 中福在线/VLT. CLS provides proposal planning, sample manufacturing, testing and mass production in relation to VLT terminal equipment for lottery issuance authorities in China and abroad. On system design, it provides a wide range of services including exterior design, structural design, development of LED display modules, development of card reader/keyboard controllers, as well as a web-based surveillance system to support speedy and effective technical responses. CLS has comprehensive manufacturing capabilities, including a 7,000+ sqm facility equipped with a PC assembly line and a VLT terminal assembly/testing line with an annual production capacity of 150,000+ units of PC controllers per shift and 30,000+ units of VLT terminals per shift.

At the end of October 2011, CLS began rolling out its new dual screen third generation VLT terminal to the market. In addition to replacing all first generation terminals, the new 3rd generation terminals are being installed in new VLT venues, ushering VLT into a rapid growth phase.

In 2019, VLT sales were RMB44.08 billion and accounted for 10.4% of China's total lottery sales.